CSSSA offers an exciting, preprofessional, collegiate-level Dance Program designed for students who are interested in pursuing a college degree and/or a professional career in dance. All dancers who apply to the program should have prior experience of at least two (2) years of technical training in ballet or modern dance. The Dance Program is designed to give students the tools and education they need to explore different styles of dance technique. Students are also provided with a stimulating environment in which to begin the creative choreographic process. All dancers are required to participate in mandatory ballet and modern technique classes as well as improvisation and composition classes daily. Repertory workshops and seminars are included, as well as master classes and rehearsals, with guest artists round out this powerful four-week curriculum.
Dancers will enjoy master classes and performances by guest artists in a variety of dance genres, such as Chinese, Flamenco, Bollywood and African Dance. They attend lectures on topics ranging from injury prevention and anatomy to dance history. Dance students may take field trips to dance events in the Los Angeles Area. The program culminates in a demonstration for the rest of the school of works that have been developed over the course of the program.
Dance Program applicants should be aware that this is a very strenuous and comprehensive program, largely centered on technique classes and creative work taught by professional teachers and guest artists. The program is intense and students are expected to be fully engaged in the entire curriculum. Students must arrive at the school in good shape, free from injury or illness and ready to work hard in a challenging environment. Applicants who cannot commit to the entire four-week program will not be admitted.
Students currently enrolled in grades 8 through 12 are eligible to apply. (CSSSA is open to students entering grades 9, 10, 11 or 12 next fall 2023. CSSSA is also open to students who are graduating from high school in the spring of 2023. You can still do the program the summer after graduation.)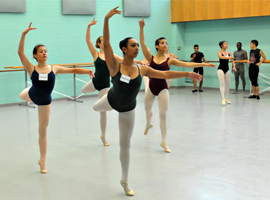 Ballet
All students take a 1.5-hour ballet technique class four days per week. The class focus is on correct placement and alignment as well as agility and strength. Students are given the right tools to use in correcting potentially harmful habits. Emphasis is placed on proper work ethic and the fundamental basics that provide for the longevity of an artist's career. Performance quality and work ethic are also stressed. There are opportunities for pointe repertoire and/or ballet technique for students who have been on pointe for two years.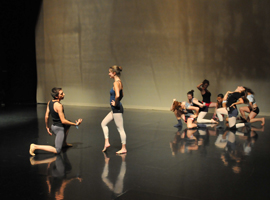 Modern & Contemporary
Students take a 1.5-hour modern dance technique class four days per week. During the four-week course, they study differing styles of contemporary dance. In contemporary repertory, the dancer learns original choreography. This class is held twice each week for all students. Students may learn original choreography or modern repertory from the contemporary dance field.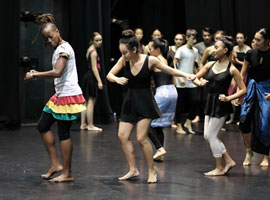 Improvisation
Study in improvisation is used to stimulate the creative process by allowing the movement to come through in its most original and immediate response. Improvisational skills will be discussed and demonstrated. Students will be challenged to solve problems through their improvisation and collaboration.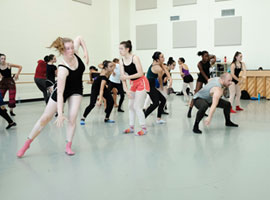 Composition Class
Composition is a very important element of the program for all CSSSA Dance students. In Composition Class, which is held twice each week, students engage in creative problem solving to build a foundation for choreographic expression. The class develops each student's confidence and self-awareness, and allows dancers to discover their own unique ways to move.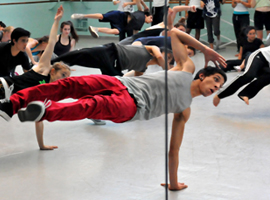 Jazz/Hip-Hop/Funk Classes
Held three days each week, these classes are led by some of the finest commercial dancers, teachers and choreographers in California.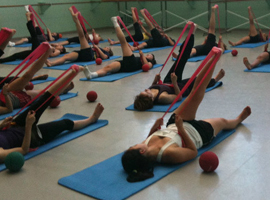 Dance Conditioning Mat Technique
Students take a weekly mat class based on the theories and principles of Joseph H. Pilates. The class teaches young dancers how to develop core strength and techniques to maintain a healthy body and prevent injuries.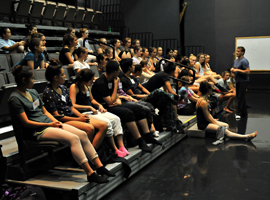 Dance Injury Prevention & Nutrition
Learn tips on how to prevent, recognize and treat basic injuries common to dancers. Learn the importance and relevance of technique, strength, flexibility and nutrition and their effects on your body. Get one step closer to being a more informed and injury-free performer!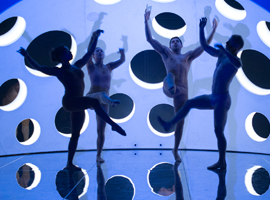 Guest Artists
As a part of each summer session, performances and lectures by special guest artists, choreographers, and companies are scheduled. Recent guests include Alonzo King and LINES Ballet, Bill Evans, The Joe Goode Performance Group, Gregory Dawson from Lines Ballet/Dominican University of California, Donald Byrd/The Group, the Cerulean Dance Theatre Double Dancing, The Changing Systems Performance Group, choreographer Garth Fagan, Helios Dance, flamenco artist Juan Talavera, dancer/choreographer Jonathan Lund, Alice Lo, Diavolo Dance Company, DawsonDance S.F., and the Marla Bingham Contemporary Ballet.