The Animation Program provides students with a unique opportunity to experience a broad range of possibilities within the world of animation. From fine art to cartoons, this program encourages students to explore their potentials, and bring movement to their artwork through an intense and rigorous curriculum. CSSSA Animation students learn diverse experimental and traditional animation techniques under the guidance of leading artists in the field. They study the history and work of animators from all over the world, they participate in figure drawing classes, and they learn from professional animation artists. Animation students at the summer program are dedicated, hardworking, and open to new ideas. The Animation Department is very competitive; typically, only one-in-three applicants each year are invited to become Animation students.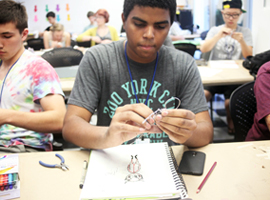 Core Classes
CSSSA Animators spend Mondays through Saturdays in workshops and classes on animation, storyboarding, life drawing, movement and other related subjects. They also attend screenings of animated films (historical, contemporary, international and experimental), and a Movement Workshop. Students complete several projects during the program, involving zoetrope, flipbooks, stop-motion and cutout animation techniques. Over the course of the session, each student produces eight animated projects. At the end of the program, they have acquired an extensive toolbox for expressing themselves through the art of animation.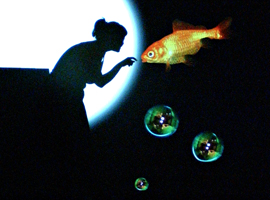 Guest Artists
Visitors to the program over the years have included French Animator Rene Laloux; Sally Cruikshank, an internationally renowned independent animator whose work includes several shorts for Sesame Street; the late puppet animator Helen Hill, Steve Hillenberg, creator of Sponge Bob for Nickelodeon; award winning stop-motion animator PES, Balbina Bruszewska, the Polish Princess of Animation; Conrad Vernon, the director of Shrek 2; the late Joe Ranft, storyboard artist for The Nightmare Before Christmas and Toy Story II; Alex Hirsch, creator of Disney's Gravity Falls; and Pendleton Ward, creator of Cartoon Network's Adventure Time. Both Alex Hirsch and Pendleton Ward are CSSSA Animation Dept. Alumni. Bobby Podesta, Stephen Gregory, Mark Walsh, and Sanjay Patel are also accomplished artists who started their careers in animation as high school students in the California State Summer School for the Arts Animation Program. These artists ended up becoming top animators for Pixar and have also been regular Visiting Artists at CSSSA. Their collective work includes Toy Story, Toy Story II and Toy Story III, A Bug's Life, Monsters, Inc., Finding Nemo, Cars, and Ratatouille.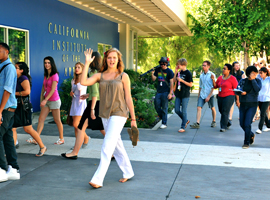 Field Trips
The department takes at least one field trip each year. This outing emphasizes observation and drawing from life; and often also concentrates on exposing the students to local museums and/or animation studios. Past drawing field trips have included the Los Angeles Zoo, Venice Beach, La Brea Tarp Pits, Olvera Street, and the Museum of Jurassic Technology . The students have also visited the Los Angeles County Museum of Art and animation studios such as Nickelodeon, Chiodo Bros., New Deal Studios, and Klasky-Csupo.
Program Instructors
Melissa Bouwman
Melissa Bouwman is a Visual Artist, Animator, and Educator specializing in traditional and digital cut-out animation, experimental video, installation and DIY stereoscopy. With nearly 20 years of experience in the field, she has produced both commercial work and her own films, which have been described as "lyrical, touching and politically challenging." Melissa's personal work has screened internationally in numerous juried festivals. Melissa grew up in an agricultural community in West Michigan where she developed a deep appreciation for native plants, seed pods, chickens, and cows. She moved to Los Angeles to escape the bitter winters of Michigan and to earn an MFA in Animation and Digital art at the University of Southern California. She continues to relish the climate and exciting botanical offerings in LA and teaches animation and digital art at a private school in Santa Monica. She is passionate about teaching and mentorship, the earth, human interaction, media literacy, and gender equality.
Rebecca Stillman
Rebecca Stillman has worked in the entertainment industry and arts education for over 15 years. She has been working in stop-motion animation as an Production Designer, Art Director, Model Maker, Painter, Set Dresser and Puppet Fabricator for film, commercials, music videos and TV productions. She also makes traditional hand puppets, marionettes, and large scale puppets for TV, film, and theater. She teaches animation and fine art, is an independent filmmaker and artist. She has a Bachelors of Fine Arts, specializing in Natural Science Illustration/ Set Design/ Printmaking from UC Santa Cruz and a Masters of Fine Art specializing in Experimental Animation/Film from CalArts.
Javier Barboza
Javier Barboza is award winning filmmaker, educator, director of animation and artist. His work tackles the complexity of the urban city, using a surreal and narrative method that engages the audience in an experiencing what is best described as visual and immersive. Born and raised in Los Angeles, Javier has been animating since the age of sixteen through after-school inner-city outreach programs. He continued his studies at East Los Angeles Community College, dedicating himself in fine arts, animation and graffiti. He transferred to California Institute of the Arts (Cal Arts) and majored in Character Animation and Film/ Video, earning his Bachelor of Fine Arts degree in 2007. He received his Master in Fine Arts at University of Southern California (U.S.C), in the School of Cinematic Arts, DADA Animation Division. He has won grants, awards, and has showcased at a variety of film festivals. Javier is currently freelancing at several studios, lecturing at various Universities and developing his next film.
Jack Turpin
Jack Turpin is a Los Angeles based media artist whose videos and audio/visual performances are inspired by emergence, synesthesia, serendipity, flows and fun timez. His work has been shown in various venues across the world including the Ottawa International Animation Festival, Slamdance Film Festival and broadcast on Adult Swim. Jack received his BFA in Experimental Animation from CalArts in 2015 and is currently an MFA candidate in the Design | Media Arts program at UCLA.
Samir Arghandiwall
Samir is recognized as a well-known multi-faceted artist, exhibiting rare and individual skill sets as an animator, illustrator, character designer, graphic designer, muralist and painter. He earned a BFA in character Animation|Film and Video from the California Institute of the Arts. The middle eastern artist, who spent his early years in France, currently is a Los Angeles based artist.  Samir is working on a gallery exhibition for August of this summer along with other CalArts alumni, where he will be painting his identifiable intimate designs by using mixed media including watercolors, gouache, acrylic, spray paint and digital painting.