Every summer the California State Summer School for the Arts welcomes 70 to 80 music students for exploration in the performing arts. These students come to CSSSA from all over California to develop their skills at the highest level. They engage in challenging developmental programs in the company of peers who share their exceptional abilities and love for the arts. The CSSSA Music Program is increasingly relevant in a time when educational programs in the arts are vanishing from our cultural landscape. The program is at the forefront of the exploration of an array of musical genre that reflects our multi-cultural society. The unique music curriculum at CSSSA features instruction in theory, music history, African Drumming and Dance, Indonesian Gamelan, individual instruction, and collaborative efforts with other CSSSA departments such as dance, theater, and creative writing. A wide range of professional musical artists and entrepreneurs visits our campus to perform and discuss their art, experiences and vision with our students. In addition, there are many performance opportunities using the great spaces at the California Institute of the Arts.
Students currently enrolled in grades 8 through 12 are eligible to apply. (CSSSA is open to students entering grades 9, 10, 11 or 12 next fall 2023. CSSSA is also open to students who are graduating from high school in the spring of 2023. You can still do the program the summer after graduation.)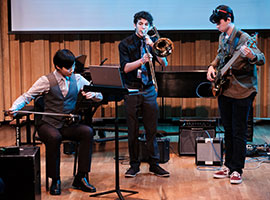 Applied Instruction
Includes lessons with an artist-teacher in the students' instrumental or vocal specialty, as well as studio classes where all of the students in a given instrumental group or specialty (i.e., guitar, strings, voice, composition, winds, brass, piano, and percussion) work together.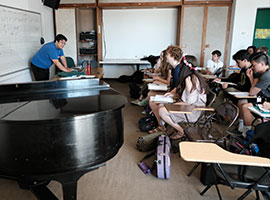 Music Theory
After evaluation, each student is placed at his/her appropriate level in a class to study the technical and aural elements of music. Students investigate harmony, rhythm, and improvisation and apply these concepts to performance and composition.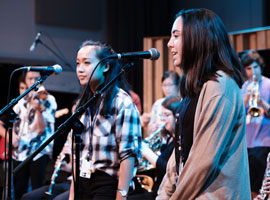 Ensembles
Ensemble placement will happen based on faculty evaluations and include Jazz, string quartets, rock bands, as well as some student driven.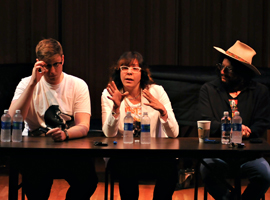 Artist Forums
Wide ranges of musical guest artists share their crafts in performance, master classes and direct interactive dialogue with CSSSA students. Past contributors includes Benny Maupin, world renowned jazz artist and multi-instrumentalist; Wayne Kramer, legendary rock guitarist composer; Don Was, Grammy Award winning producer for the Rolling Stones, Ziggy Marley, Bonnie Raitt, and Elton John; Joel Martin, Music Director for the Footsteps of Mandela and creator of Jazzical, and many more.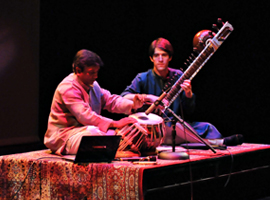 Performance Activities
Performance Activities include: student and faculty recitals, interdisciplinary collaboration, mixed ensembles, and many others.
Program Instructors