Every summer the California State Summer School for the Arts welcomes 70 to 80 music students for exploration in the performing arts. These students come to CSSSA from all over California to develop their skills at the highest level. They engage in challenging developmental programs in the company of peers who share their exceptional abilities and love for the arts. The CSSSA Music Program is increasingly relevant in a time when educational programs in the arts are vanishing from our cultural landscape. The program is at the forefront of the exploration of an array of musical genre that reflects our multi-cultural society. The unique music curriculum at CSSSA features instruction in theory, music history, African Drumming and Dance, Indonesian Gamelan, individual instruction, and collaborative efforts with other CSSSA departments such as dance, theater, and creative writing. A wide range of professional musical artists and entrepreneurs visits our campus to perform and discuss their art, experiences and vision with our students. In addition, there are many performance opportunities using the great spaces at the California Institute of the Arts.
A typical schedule will look like this:
9:00am – Gamelan
10:00am – African Drumming and Dance
11:00am – Composition
12:00pm – Lunch
1:00pm – Music Theory
2:00pm – Music History
3:00pm – Individual Instruction
4:00pm – Practice time
5:00pm – Practice time
6:00pm – Dinner
7:00pm – Ensemble Rehearsal/Guest Artists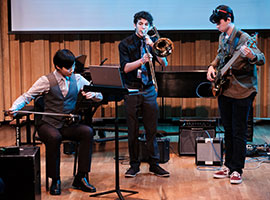 Applied Instruction
Includes lessons with an artist-teacher in the students' instrumental or vocal specialty, as well as studio classes where all of the students in a given instrumental group or specialty (i.e., guitar, strings, voice, composition, winds, brass, piano, and percussion) work together.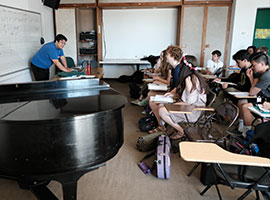 Music Theory
After evaluation, each student is placed at his/her appropriate level in a class to study the technical and aural elements of music. Students investigate harmony, rhythm, and improvisation and apply these concepts to performance and composition.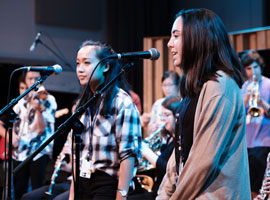 Ensembles
Ensemble placement will happen based on faculty evaluations and include Jazz, string quartets, rock bands, as well as some student driven.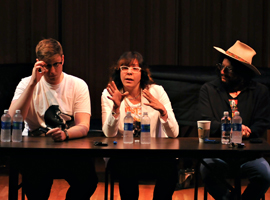 Artist Forums
Wide ranges of musical guest artists share their crafts in performance, master classes and direct interactive dialogue with CSSSA students. Past contributors includes Benny Maupin, world renowned jazz artist and multi-instrumentalist; Wayne Kramer, legendary rock guitarist composer; Don Was, Grammy Award winning producer for the Rolling Stones, Ziggy Marley, Bonnie Raitt, and Elton John; Joel Martin, Music Director for the Footsteps of Mandela and creator of Jazzical, and many more.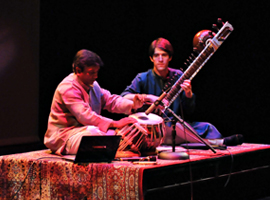 Performance Activities
Performance Activities include: student and faculty recitals, interdisciplinary collaboration, mixed ensembles, and many others.
Program Instructors
José De Jesús Soto
The California State Summer School for the Arts Music Department is chaired by José De Jesús Soto, educator who has taught and performed around the United States and Mexico. In and around Los Angeles, José has performed at the Broad Stage in Santa Monica, the University of Southern California, the California Institute for the Arts, the RedCat Theater, the Norton Simon Museum, Los Angeles City Hall, the Getty House, as well as other venues. Jose has received his Bachelor and Master of Music degrees from the University of Southern California and continues his studies pursuing a Doctorate of Musical Arts degree under the tutelage of professor Kevin Fitz-Gerald with minors in Conducting and Jazz.
Stan Smith
Stan Smith is an associate professor of music in the Conservatory of Music at Capital University in Columbus, Ohio, where he is the head of the guitar curriculum. Recordings under his own name include Pathways and No Discussion on the COJAZZ label and Silent Memory. Stan is featured as guitarist, composer, and co-producer on Madrugada's self-titled debut CD also on COJAZZ and Nova Madrugada In Tadashi's Room. His book, Jazz Harmony on the Guitar; A Linear/Structural Approach is published by Hal Leonard. As a guitarist he was a member of the Moacir Santos band in Los Angeles, and performs periodically with artists such as Ali Ryerson and David Ornette Cherry in clubs, concerts, and festivals.
Adrian Rosas
Adrian Rosas holds a Master's Degree from The Juilliard School as well as a Bachelor's Degree from Western Michigan University. As a Gerdine Young Artist, Mr. Rosas made his Opera Theatre of St. Louis debut in the role of The Captain in Tchaikovsky's Eugene Onegin as well as understudying the roles of Willy Wonka in a world premiere of Peter Ash's opera, The Golden Ticket and the title role in Don Giovanni. He made his Seattle Opera debut as the Sergeant in Rossini's Il Barbiere di Siviglia and as part of Seattle Opera's Young Artist Program performed the roles of Procolo in Donizetti's Viva la Mamma, as well as Masetto and Il Commendatore in Mozart's Don Giovanni. In concert, Mr. Rosas has made his Carnegie Hall debut as the Angel Gabriel in Oh My Son, an opera by Spanish composer Marcos Galvany and has performed on multiple occasions with the acclaimed New York Festival Of Song.
Claire Kuttler
Praised for her "glistening torrents of sound" (Opera News), American lyric soprano Claire Kuttler is a versatile singing actress, performing operatic, concert and golden age musical theater repertoire throughout the United States. Claire began 2017 with her company and role debuts as Bea in Jake Heggie's Three Decembers with Opera Birmingham, followed by recitals in Burtonsville, MD and Davenport, IA throughout the spring. Her upcoming engagements include her Carnegie Hall debut as the soprano soloist in Brahms' Ein Deutsches Requiem with Distinguished Concerts International New York (DCINY), Alexis in Offenbach's The Island of Tulipatan (L'ile de Tulipatan) with the Light Opera of New York (cast recording to be released by Albany Records) and Hanna Glawari in The Merry Widow with New Rochelle Opera.
Claire resides in New York City and holds degrees from the Mannes College of Music, the University of Maryland (College Park) and Concordia College (Moorhead, MN).
Keegan Anglim
Keegan Anglim received his B.M., M.M., and D.M.A. in studio/jazz guitar from the University of Southern California. While at USC, he was the recipient of the Outstanding Graduate departmental award and the Order of the Areté award. As a faculty member of the Bachelor Degree program at the Musicians Institute, Keegan teaches private guitar lessons, sight reading, performance styles, and ear training.
Sakura Tsai
Since her first solo orchestral appearance at age 10, violinist Sakura Tsai has performed nationally and internationally as a soloist, chamber and orchestral musician. She has won several musical and academic honors such as the Ozelle Rubenstein Memorial Prize at the International Young Artists Peninsula Music Festival, Honorable Mention at The Coleman Chamber Ensemble Competition, and the prestigious Order of Areté, awarded by the University of Southern California. She frequently serves as a clinician in various schools around Southern California. Sakura is completing a Doctorate of Musical Arts degree in Violin Performance at University of Southern California Thornton School of Music under the tutelage of Kathleen Winkler.
Kevin Yokota
Drummer Kevin Yokota grew up on his family's 30 acre stone-fruit and raisin farm in the small San Joaquin Valley town of Kingsburg, California. After high school, Yokota moved to Los Angeles to attend the University of Southern California where he received his Bachelor of Music from the Thornton School of Music. Kevin currently resides in South Pasadena and is an in-demand session/touring drummer and educator. His performance/recording credits include Sam Amidon, Snowblink, Jamie Drake, inc. no world, Sam Gendel/INGA, Eric Reed Trio, Miguel Atwood-Ferguson, Bossa Zuzu, The Hi Fi Honeydrops and many more. Yokota is also the composer/producer for his own project which released an EP in 2016.
Hirotaka Inuzuka
Hirotaka Inuzuka teaches and performs Indonesian gamelan music. Hiro began studying Balinese gamelan during his undergraduate studies in Ethnomusicology at UCLA; he continued to deepen his knowledge of Indonesian music and dance at California Institute of the Arts, under the mentorship of I Nyoman Wenten, where he earned his MFA in WorldMusic Performance. He continues to travel to Bali regularly, to expand his expertise and study with Bali's most renowned artists and teachers.