The CSSSA Creative Writing Program offers personalized and interactive workshops for approximately seventy talented and motivated young writers. A faculty of four professional writers guide and instruct students in the techniques of fiction, poetry, memoir, and dramatic writing.
We're looking for students who have the courage to be themselves on the page. We're looking for students who love language. We're looking for students who want to tell their own stories: stories from their imagination, from their neighborhood, from their family.
Ideally our students have begun to outgrow the High School reading list. They have struck out and found the writers that speak to their own inner life and experiences. Whether it's edgy YA, slam poets at the local cafe or on YouTube, European novelists, or the latest New York playwrights, CSSSA students tend to have a list of writers they love.
We're also looking for students with discipline and endurance. CSSSA is one of the most free, creative environments a young artists can experience. It is also a great deal of hard work. During the course of the four weeks you will write more than you ever have in your entire life. Be ready.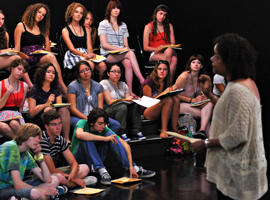 Core Class
Core is a foundational writing workshop that meets four mornings each week. Students will spend one week with each member of the faculty. Faculty members will teach their specialty, offering an introductory class in prose fiction, poetry, memoir, or dramatic writing. By the end of the month, every student will have had a class in every genre.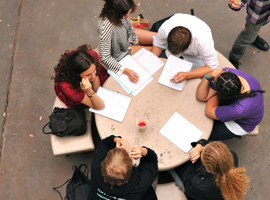 Elective
Electives meet four afternoons each week. These workshops provide students with an oppurtunity to go deep in a particular genre or approach to writing. Previous electives have had titles like Performance Poetry, Big Fiction, Dramatic Moves, Poem of Origin, The Sentence, Screen Plays, and Memoir to Metaphor. Students will choose their elective during the departmental orientation.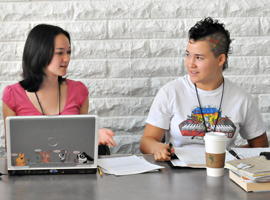 Guest Artists
Published writers, editors, agents,   and select panels are invited to CSSSA for discussions and presentations. Some of the guests who visited the Creative Writing Department in recent years include California Poet Laureate Al Young, novelist Maria Dhavana Headley (Queen of Kings and the forthcoming Magonia), editor Christie Yant of Lightspeed Magazine, screenwriter Pam Wallace (Academy Award winner for Witness), and screenwriter Mike Shiffer (Colors and Crimson Tide), poet Roger Bonair-Agard, and Pulitzer Prize-winning cartoonist and playwright Jules Feiffer. CSSSA Creative Writers have the rare opportunity to participate in lively discussions regarding the lives and creative strategies of nationally recognized writers.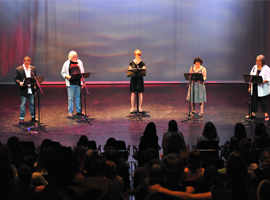 Colloquium
On Saturday mornings the Creative Writing department gathers to hear students to share work created during the prior week. Faculty members describe the writing exercises, their purposes, and the problems and discoveries made by the writers.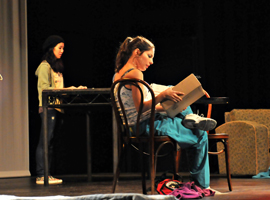 Group Work
Every week students will work together on group projects. These might include creating a play, writing group poems, or working together to tell stories from their lives. This is a chance for writers to get out of their heads and learn that writing isn't only about what happens on the page.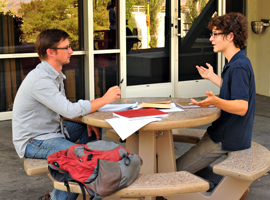 Literary Anthology
Creative Writing students gain experience planning, editing, laying out, and publishing a collection of original work. The annual Literary Anthology is distributed on the final day of the session. Our anthologies live on as a demonstration of the exceptional work produced by CSSSSA Creative Writing students each summer.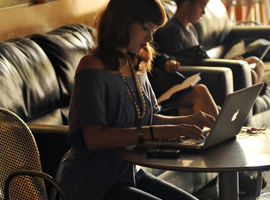 Office Hours
Every week students will have the opportunity to sign up for office hours with the Creative Writing faculty. This can be a time to go over student work, discuss future   projects, and find strategies to deal with the CSSSA workload.
Program Instructors
Hilary Darling
Hilary is a poet and scholar of English literature with an emphasis on Shakespeare, the Victorians, and the multi-cultural tradition of fairy tales. She earned a BFA in English Language and Literature from Smith College and an MFA from the Writing Program at CalArts. Currently holding both faculty and administrative positions at CalArts, she teaches and mentors students in language arts and is the Director of Summer Institute. She is the author of Apologia, a collection of poetry excerpted in various publications and online journals. Literary honors include the Academy of American Poets University Prize at Portland State University, the Foote Memorial Prize in Biblical Studies, and featured writer in Kurt Vonnegut's master class at Smith College. In addition to maintaining a personal writing practice, she supports her community by volunteering at schools and local non-profit arts organizations.
Phinneas Kiyomura
Phinneas Kiyomura is a playwright, screenwriter, and actor from Long Beach, CA. His plays have been produced at Theatre of NOTE, Padua Playwrights and Sacred Fools. He is a FIND Screenwriters Lab Fellow, an ABC Disney Writers Lab Fellow, and was a staff writer on Twisted (Freeform). As an actor, he will appear in upcoming features Kill, Me Deadly and After We Leave. He is currently developing Internment, a passion project inspired by his father's experiences in the Internment Camps, as well as his pilots for New Regency, Mark Gordon Company, and ABC Studios. His graphic novel, 442, will soon be released by Stēla.
Adriana Widdoes
Adriana Widdoes is a writer, editor and documentarian exploring nonfiction narrative at various stages of blurring through multimedia works. She earned a BA in Social and Cultural Analysis from New York University and an MFA in Writing and Integrated Media from California Institute of the Arts. She is a graduate of the Salt Institute for Documentary Studies and presently co-operates Which Witch L.A., an independent publishing platform dedicated to creative nonfiction and community-based, collaborative projects by, for and about women. She has been a regular contributor to KCET's Departures and is currently at work on a memoir titled On Holland Road, which blends personal narrative, journalistic investigation, and philosophical inquiry to examine issues of memory, illness, and recovery.
Jacqueline Elam
Jacqueline Elam is a Visiting Lecturer in the Writing Program at Scripps College, where she was the recipient of the 2016 Marie McSpadden Sands Award for Outstanding Writing Instruction. She holds a Ph.D. in English from Claremont Graduate University, with a concentration in literary theory. For ten years, she worked at the California Institute of the Arts (CalArts) in various roles, including Assistant Provost, Associate Provost, Interim Administrative Co-Director of Character Animation, and Acting Provost, and still occasionally teaches genre and digital media classes during summer session. She spent three years as an associate editor/feature writer for the arts & entertainment magazine, Venice, and her short fiction has been published in various literary magazines. She currently has a book about death and aesthetics under contract with Lexington Books.
Diana Wagman
Diana Wagman is the author of six novels, most recently her first for young adults, Extraordinary October. Her second novel, Spontaneous, won the 2001 USA Pen West Award for Fiction. Her fourth novel, The Care & Feeding of Exotic Pets, was a Barnes & Noble Discover New Writers selection. Her short stories, essays, and reviews have appeared in the New York Times, Salon, various journals, and as part of the n + 1 anthology MFA vs. NYC. She is an occasional contributor to the LA Times. She currently teaches fiction for Writing Workshops LA.
Alex Mack
Alex Mack is a Los Angeles based veteran and writer. His long-form work utilizes the basic physicality of contemporary American society to examine and demonstrate the devolution of man. Alex is the author of a memoire, The Deputy of Nineveh, tracing his year-long deployment in Iraq through the bloodiest period of the war. Alex has also written Doggerel, a novel which follows his character through drug-addled delusions and a criminal life in Spain, as well as his latest work, The Summer of Sixteen, a novel examining the virtues of abstinence and concepts of self as a court stenographer hunts down a serial killer in Los Angeles.
Alex served in the US Army as an Infantry Captain; he is a Ranger, and veteran of the Iraq war. Alex earned a B.S. in Physics from the United States Military Academy at West Point and a MFA in Creative Writing from the California Institute of the Arts. Alex lives in Glassell Park where he enjoys boxing, volleyball, and the company of his partner and their child