An individual, expressive use of the film medium is emphasized in the Film program. Each year, 28 students learn all aspects of creative film production, from experimental to pre-cinema history. They view over fifty exemplary films, and attend lectures and presentations by visiting artists working in the field. The program is very learning-intensive, and ideal for self-starters who want to challenge both themselves and the boundaries of filmmaking while developing their own critical thinking and artistic visions. The program is structured to resemble a collegiate BFA course that students typically experience at elite university and art school film programs.
Monday through Thursday, students move between classes in Narrative Filmmaking, Documentary Filmmaking, and Cinema Theory. On Fridays and Saturdays, students have production classses, learning various aspects of filmmaking from post-production sound design to art direction. There are also regularly scheduled evening screenings, including a Thursday night, outdoor, Works-in-Progress showcase, where students can screen for the CSSSA community the films that they created in class.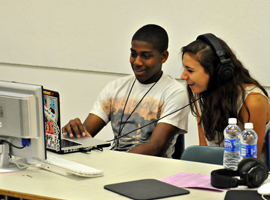 Narrative Filmmaking
This class is an introduction to the principals of narrative filmmaking. Here the students make short fiction films. Drawing from their own personal experiences, these films will mold the students into auteurs. We will go into detail on how camera placements, movement, color, performance, etc. all effect the narrative experience. Each student will make two short fiction films during the course.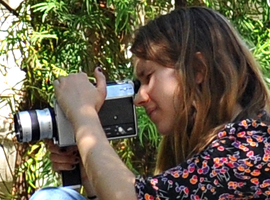 Documentary Filmmaking
In this class we will investigate a range of creative approaches to non-fiction filmmaking, considering how different personal, political, and regional concerns are expressed through cinema. We will discuss how cinematography, sound, interviewing and editing techniques can shape our perception of what is true, while students test their ideas through the production of individual documentary projects.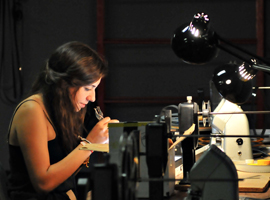 Experimental Filmmaking
Dive into the beautiful world of Experimental cinema. In this course we will de-rail into the underground, avant-garde and surrealist filmmaking only few know and love. Steering away from mainstream commercial media, be ready to pour out your emotions using different techniques to convey your own unique voice on screen. This cleansing will release you and send you off to the world as an artist.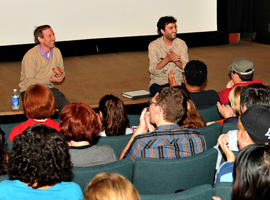 Cinema Theory
Students are exposed to a range of important films from many different movements and genres ranging from the Hollywood musical to Neo-Realism to LGBTI Cinema. This class is focused on discussing the past, present and future of filmmaking and how it can give voice to the voiceless.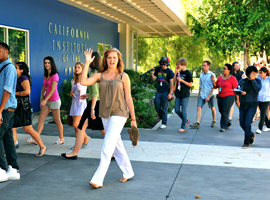 Field Trips
The program also includes field trips that in the past have included tours of Paramount Pictures Studios, visits to prop houses and live film shoots, and public screenings of student works at art houses in the Los Angeles area.
Program Instructors
Lee Lynch
Born in Redding, California, Lee Lynch holds a BFA in Film from California Institute of the Arts and an MFA in Fine Art from the University of Southern California. Lee's films have shown at Rotterdam, FICUNAM, Sundance, and the Marseille International Documentary Film Festival. His second feature film The Murder of Hi Good true-crime revisionist Western set in Northern California premiered in France in 2012 to critical acclaim. He lives and works between Los Angles and Reykjavik Iceland.
Frederick Thornton
Born in Cleveland, Ohio, Frederick Thornton is an established independent film producer, with more than eight feature length films credits, including Lee Lynch's 2012 dramatic western feature, The Murder of Hi Good. He has won an IFP Gotham Award, AFI Audience Award, been nominated for the Piaget Producers Spirit Award, and has had his films screen in theaters across the globe. He is currently producing a feature documentary entitled L.A. Roll and a narrative feature titled Farewell Tour. Thornton's latest films are the feature length experimental art film, Day of Forevermore, by Los Angeles based artist Marnie Weber, and a Film Independent Project Involve Short, DROWNING, by Ryan Velasquez. Frederick currently resides in Newhall, California with his two dogs.
David Fenster
David Fenster has directed three feature films and numerous shorts. His films have screened at festivals and museums around the world including: Sundance, The Museum of Modern Art, True/False, the Viennale, and the Los Angeles Film Festival. His last feature, Pincus, was nominated for an Independent Spirit Award. As a cinematographer he has shot several films for other directors, including Monica and David for Ali Codina which aired on HBO and was nominated for an Emmy. He has taught film and video courses at UC San Diego and CalArts. He received an BA from the University of Florida and an MFA from CalArts.
Brigid McCaffrey
Brigid McCaffrey is a Los Angeles-based filmmaker utilizing documentary practices to consider environments in flux and transitional states of living. Her recent films portray an itinerant woman's relationship to the geologic terrain of the Mojave Desert in Paradise Springs (2013) and the multi-faceted nature of a Los Angeles reservoir in Castaic Lake (2010). Her films have screened at international festivals and institutions including the International Film Festival Rotterdam, BAFICI, DocLisboa, Cinema du Reel, Torino Film Festival and the Los Angeles Filmforum. Castaic Lake received the award for Best Cinematography at the Ann Arbor Film Festival and Paradise Springs received the Marian McMahon Award at the Images Festival in Toronto. She received her MFA in Film/Video from CalArts.
Jose "Santos" Santos
Experimental instructor Jose Santos is an autodidactic editor and video artist from Los Angeles. He specializes in all aspects of filmmaking, including: Experimental, Visual effects, Super 8mm, and Final Cut Pro. He has editing credits on: The Murder of Hi Good, Pearblossom Hwy, Farah Goes Bang, 20 Years of Madness, as well as the feature length film, Lake Los Angeles. Santos has also worked with artist Marnie Weber, ZAZAZOZO and has cut trailers for Small Form Films.